Good grief, it's been a while!
Alas, I've fully fallen into the "too busy to update is blog" camp. Almost anything I do of interest now I post on Google+, Twitter or even Facebook (when I want my parents to see it too).
All continues well here in Chicago, we continue to make more friends here and start to put down roots of a sort. It just occurred to us now that our youngest is now more than 50% American! He celebrates his second birthday next week – where does the time go?
In the next few months we're going to have to make our mind up whether we're going to stay a little longer than our initial two year stint. That's going to be a tricky decision; we really miss our friends and family in the UK but there's so much to be said for staying too…
Work continues to be so much fun: I never thought all those skills I learned in the games industry would have so much value anywhere this side of a GPU!
Filed under: Blog
Posted at 23:00:00 BST on 15th April 2012.
---
Hello Chicago!
We've successfully survived our first week in Chicago! It hardly seems like yesterday we were panicking about getting the house in Horsham packed up before the taxi to the airport arrived.
The boys were amazingly patient on the flight — eight and a half hours and not a peep from either. Isaac played happily in Ness's lap, and William slept or watched CBeebies on the British Airways in-flight entertainment.
Clearing through immigration was far less traumatic than we were anticipating: as we had small children and lots of hand luggage an airport employee took pity on us and let us through the fast track line. The immigration officer was friendly and helpful and processed our visas in no time. Past immigration, we found a porter to help us pick up our six large suitcases, two car seats, pram and buggy board and load them onto a taxi. Before we knew it we were sitting, somewhat shell-shocked, in our new apartment overlooking Millennium Park.
Last weekend flew by; we explored the surrounding area on foot (it's not as cold as we were anticipating here); we picked up our hire car and went to the fantastic Shedd Aquarium; we shopped for warmer clothes and stocked up on staple foods.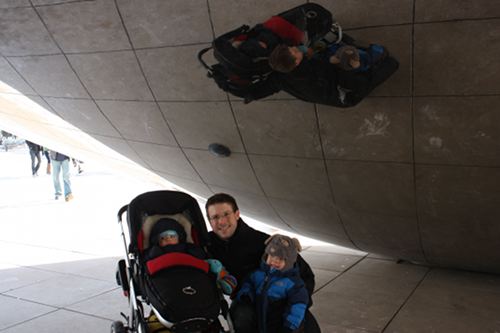 Matt, William and Isaac pose under the Cloud Gate (a.k.a. "The Bean") sculpture in Millennium Park.
The week also flew by; I was at work (minus some time sorting out a bank account and social security number), and Ness and the boys continued to explore Chicago, checking out the Willis Tower, visiting the art museum (rude not to; it's next door), touring the city on the trolley bus and generally getting their bearings.
We've just been out for a lovely meal at the Park Grill and now Ness and I are enjoying a lovely cup of tea. We had to import two large boxes of Yorkshire tea and an electric kettle that works on 110V to do so as the US tea is so awful.
Filed under: Blog
Posted at 05:00:00 GMT on 16th January 2011.
---
It's nearly time to say goodbye
2010 has been an exciting year for the Godbolts:
Isaac Benjamin Godbolt was born. He's going from strength to strength and is now a right bruiser, he's more vocal than ever, and is a nightmare after discovering he can crawl. Well; I say crawl, it's more like a seal lolloping along, but it's very fast.
The project I was last working on at Google, Android YouTube v2.1 was launched.
We moved house — after over ten years of living in Stanmore, we moved to Horsham in West Sussex.
My sister got engaged (yay!).
I left Google after two happy years, and joined DRW Trading. I'm having an absolute blast at DRW; in the few short weeks I've been there I've already finished off several projects, something I couldn't have achieved at Google.
And most tumultuously of all: I decided to uproot my family and accept a transfer to DRW's Chicago office for a couple of years. We've been frantically clearing out the house, packing, sorting out DIY stuff and generally preparing ourselves all over the Christmas break. We've got our visas sorted and our flight is booked for the 7th of January.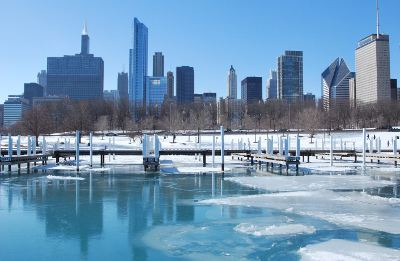 Chicago's skyline in Winter. (Image courtesy of Fernando Mandujano)
We've been warned that Chicago's winters are considerably worse than the ones we get in the UK, so we're a little anxious about how we'll cope. At least the recent snow here has prepared us a bit!
Filed under: Blog
Posted at 22:44:00 GMT on 31st December 2010.
---
Goodbye Google!
It's a sad day today: my last day working for Google. I've had such a great time and it's sad to wave goodbye to all my friends, and leave behind all the cool and exciting secret projects.
So very excited about the new few weeks though — Ness and I are off to Chicago at the weekend (first time away without the kids) to house-hunt and generally enjoy ourselves. Then back to the UK and my first day in the new job!
Filed under: Blog
Posted at 15:00:00 GMT on 12th November 2010.