Hey sucker!
A little birdie tells me that X-bam had something to do with Mr & Mrs Wheatley's latest viral marketing video…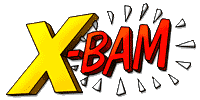 Looks like viral marketing's all the rage now. First off it was the branding of clothing, and the fact that certain brand names became cool — then people would actually pay money for a T-shirt with your advert on it, and wear it for free! Fantastic!
Now of course, it's web viral marketing things with people happily mirroring your advert content and forwarding it on to friends and family — genius.
Now, how to work out a viral campaign for ProFactor?
X-Bam were responsible for the C.G. work of the viral, though they were at the scene of the shoot too – it was a very cold day in London and not surprisingly the poor model was freezing the whole time!