A few days of downtime
The site's been down the last couple of days, due to a power cut on Friday. I've been away for a lovely long weekend in beautiful Dorset with my in-laws, and so haven't been able to fix until I got back. We had a lovely time in a rented house in Burton Bradstock, although I'm aching a little from playing uncle to my nephews, and my head's still sore from drinking with my brothers-in-law.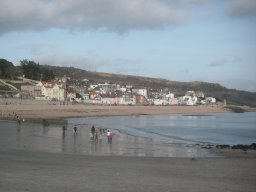 Lyme Regis on the Dorset coast
Anyway, all's back to normal now, a simple reboot of the server fixed it — I'm not quite sure why after the power returned the machine didn't come back on.