Happy New Year
This year we celebrated the annual celebration of the arbitrary calendar overflow in Reading.
During the day we visited my Uni mate Nick and his wife Angela, where I was presented by the best birthday present I've had in ages: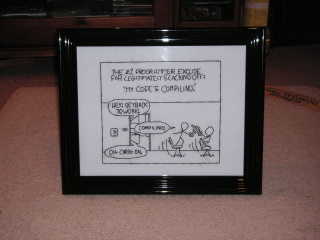 An amazing piece of work by Angela - the original is licensed under a CCA-NC 2.5 license.
It's a cross-stich of an xkcd cartoon, and a fantastic surprise — doubly unexpected given that my birthday is in August! Thanks guys, this will be adorning my desk at work.
After this flying visit, we went out with another Uni friend, Pierre, and his girlfriend, Liz. Pierre's a keen pilot and they had kindly invited us along to their local flying club's New Year's Eve bash. We had an absolutely fantastic time. Shame we're back to work today!
In other news: about time, too. Congratulations, Mr Furber!