November round-up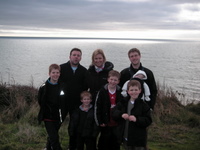 I've been pretty busy this month, and have hardly had any time to write anything for the blog, as my very few readers will have noticed. My intention was to post a quick update at least once a week, but what with William, new job, going away and generally being lax, I haven't really gotten around to it. Enough excuses, and on with the update.
This month:
I've worked out roughly how things work at Google and have started doing productive work. Well, I think it's productive, I hope the rest of my team does too!
We went to Dorset (I thoroughly recommend it) for a long weekend with the Field tribe. It was great, the weather was very kind to us and William was so well behaved.
I helped run the 11th Open Source Jam.
I've been out drinking pretty much one day a week. Poor Ness! To start making amends, I'm babysitting on Tuesday and she's going off out with her NCT friends. Should be fun…
William has started on solids. He loves banana and pear.
Hopefully I'll get a bit more time to elaborate on what I'm up to in December.